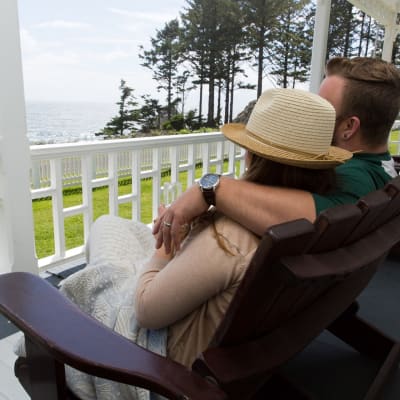 Experiences
We want you to have the time of your life
So many experiences included in your stay....
The Wine & Cheese Social
Begin your stay the right way. Join us at 4:30pm after check-in in the West Parlor to meet the other guests and to sample delicious Oregon wine and artisan cheese.
The 7 Course Breakfast
At 8:30 every morning, we ring the bell to call everyone to the big table in the dining room for our sumptuous 1.5 hour breakfast experience.
Surprise your loved one or treat yourself to flowers, wine, picnics, and so much more! Many Packages to choose from to make your visit special and relaxing.
Midnight Stroll to the Light Tower
Grab the flashlight in your room and make your way to the tower like the lightkeepers of old. See the light beams of the lighthouse tower circling above your head and the prism effect of the first order Fresnel lens.
Our Grand Victorian Wrap-Around Porch
Facing south, our 3 sided porch has 180 views of historic Cape Creek bridge, Heceta Lighthouse, and the majestic Pacific Ocean. It's the perfect place for enjoying our complimentary wine and cheese, or an Oregon Picnic Basket.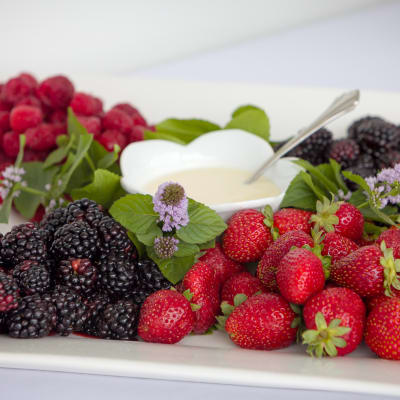 The 7 Course Breakfast
Mike and Carol Korgan, both certified executive chefs, came to Heceta Head with the inspiration to revitalize the Keeper's House and make it a welcoming home. Years of entertaining have proven to them that welcoming homes are centered around the dining table.
The seven course breakfast was created with this ideal in mind. A blend of inspired food and good conversation is a recipe for true Victorian living.
Our highly trained staff continues the tradition that Mike and Carol Korgan started many years ago.
Guests at the Keeper's House are pampered with a 1.5 hour breakfast in the morning, an experience which may match the lighthouse viewing at night! Each course is met with eager anticipation. The menu is always changing and guided by the season. Every morning you will see us picking herbs and produce out of the Lightstation garden. We highlight the best of Oregon: artisan cheeses, local sausages, and fresh produce .
If you stay more than one night you will receive a different breakfast each morning. We have served eight different seven course breakfasts in a row to a very satisfied guest!
A few times a year we will offer the breakfast to the public. This December the house is completely decorated for Christmas. The perfect time to welcome neighbors and friends to share a meal! On December 12 and 13, you can reserve your seat to experience a culinary delight. Service is 1.5 hours family style and starts at 9am. Call 866-547-3696 for reservations. $60/person.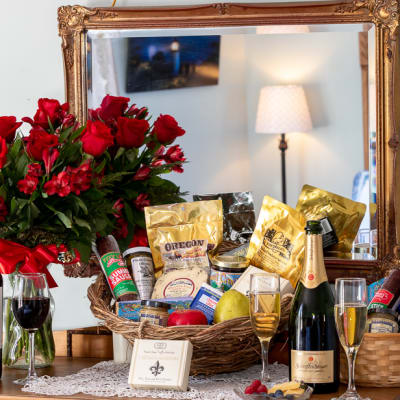 Packages
Add Convenience and Romance to your Stay
Enjoy a Light Picnic in one of the cozy and romantic parlors or on the porch overlooking the ocean at sunset. This basket of local Oregon foods includes Taylor's Sausage Summer or Beef sausage chub, 1 local Oregon cheese, Willamette Valley Mustard's Champagne and Honey, water crackers, Sweet Creek Organic Fruit Spread, 1 piece of fresh fruit, and an Oregon Coast milk chocolate and caramel bar. $55
We looked all over the beautiful state of Oregon and the northwest to find a whole basket full of wonderful eats:
Taylor's Sausage Trail Buster Sweet Jerky,
Taylor's Sausage Summer or Beef Sausage chub,
2 varieties of Oregon cheeses,
Willamette Valley Mustard's Champagne and Honey,
Water crackers,
All About Olives Green Olives,
2 pieces fresh fruit,
Sweet Creek Organic Fruit Spread,
Euphoria Chocolate's Truffles,
and an Oregon Coast milk chocolate and caramel bar.Arranged in a large basket available for you upon arrival. $100
Add some romance to your stay! A bouquet of flowers, a box of truffles, and a bottle of bubbly will await you and your loved one in your room. Must be ordered at least 1 week in advance. $95
Surprise your future fiance with a romantic proposal scene in your room. We will provide 2 bouquets of flowers, rose petals and LED candles all around the room, and we will set it up for you while you are out. This package can be customized. Flowers are for you to keep. Candles stay at the B&B. Requires at least 1 week notice. $350
Order one for your visit or one for a friend staying with us. Can be added by clicking on the package name, during the online reservation process, or by calling 866-547-3696.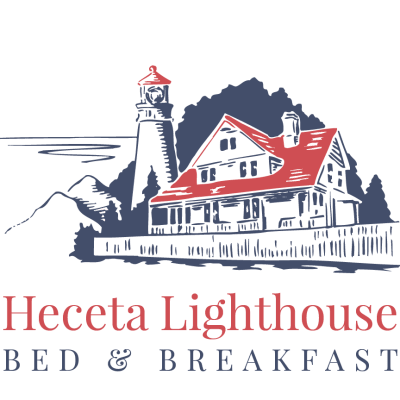 Media Coverage
Some Articles about Heceta Lighthouse B&B