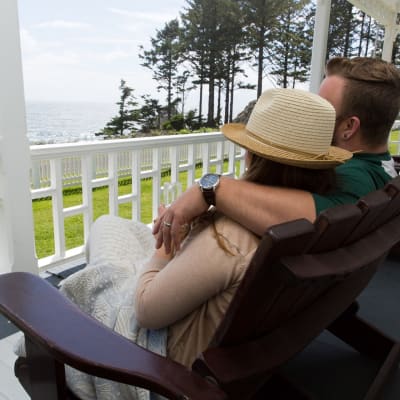 Experiences
We want you to have the time of your life
So many experiences included in your stay....
The Wine & Cheese Social
Begin your stay the right way. Join us at 4:30pm after check-in in the West Parlor to meet the other guests and to sample delicious Oregon wine and artisan cheese.
The 7 Course Breakfast
At 8:30 every morning, we ring the bell to call everyone to the big table in the dining room for our sumptuous 1.5 hour breakfast experience.
Midnight Stroll to the Light Tower
Grab the flashlight in your room and make your way to the tower like the lightkeepers of old. See the light beams of the lighthouse tower circling above your head and the prism effect of the first order Fresnel lens.
Our Grand Victorian Wrap-Around Porch
Facing south, our 3 sided porch has 180 views of historic Cape Creek bridge, Heceta Lighthouse, and the majestic Pacific Ocean. It's the perfect place for enjoying our complimentary wine and cheese, or an Oregon Picnic Basket.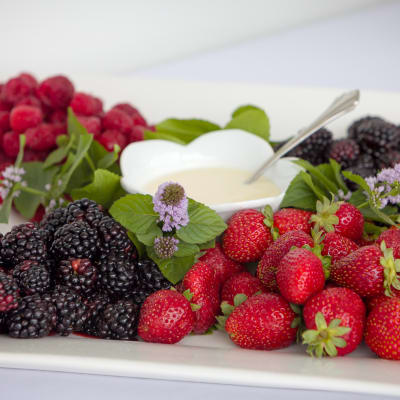 The 7 Course Breakfast
Mike and Carol Korgan, both certified executive chefs, came to Heceta Head with the inspiration to revitalize the Keeper's House and make it a welcoming home. Years of entertaining have proven to them that welcoming homes are centered around the dining table.
The seven course breakfast was created with this ideal in mind. A blend of inspired food and good conversation is a recipe for true Victorian living.
Our highly trained staff continues the tradition that Mike and Carol Korgan started many years ago.
Guests at the Keeper's House are pampered with a 1.5 hour breakfast in the morning, an experience which may match the lighthouse viewing at night! Each course is met with eager anticipation. The menu is always changing and guided by the season. Every morning you will see us picking herbs and produce out of the Lightstation garden. We highlight the best of Oregon: artisan cheeses, local sausages, and fresh produce .
If you stay more than one night you will receive a different breakfast each morning. We have served eight different seven course breakfasts in a row to a very satisfied guest!