October 28, 2018
Things to do in November and December
Posted by: Misty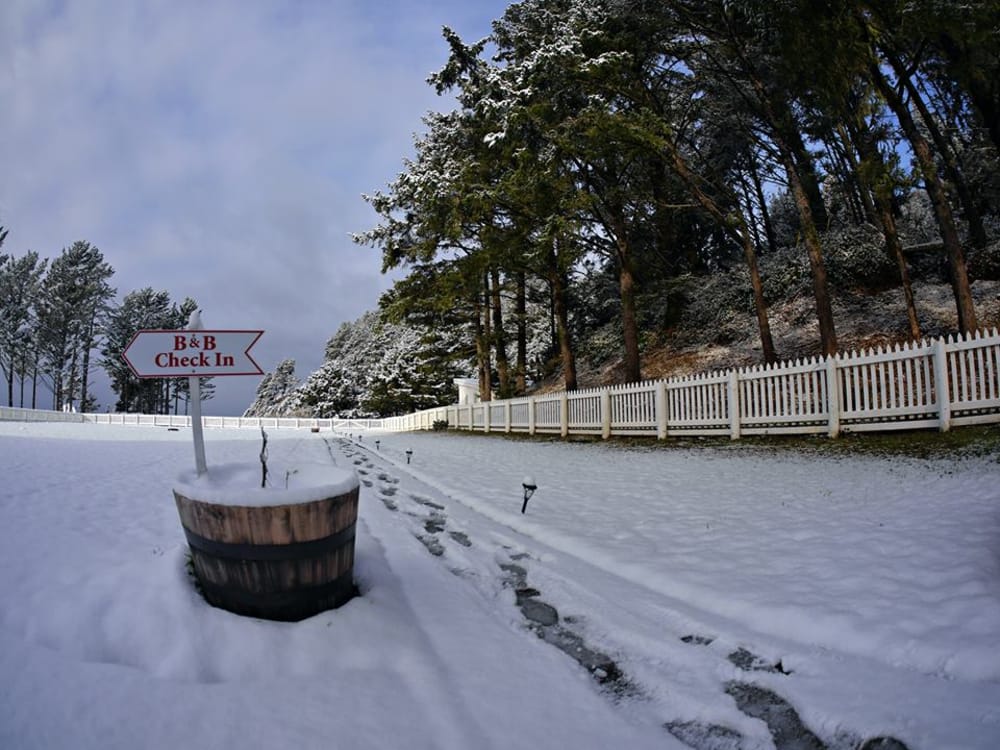 "Grey Gardens, The Musical"
Nov 1-4 at Florence Event Center 715 Quince St. 541-997-1994
Last Resort Players is pleased to present "Grey Gardens, The Musical" based on the documentary from the 1970's which follows the precipitous decline of the wealthy and well connected Bouviers, an aunt and first cousin of Jackie Kennedy Onassis. From their hey-day in their Long Island 28 room mansion in the 30's to the squalor of a ruin overturn with 50 cats, "Grey Gardens, The Musical" deals with a darkly comic mother and daughter duo who develop a psychological dependency which allows them no escape.
Grey Gardens was a long-time dream of Leah Goodwin, who passed away in late July. Her vision is being brought forth on the flat floor with the orchestra seated on the platform behind the actors. It will be directed by Jason Wood with musical direction of Rhianna Haines, and orchestra conductor Chris Lewis.
Grey Gardens opens at the Florence Events Center Thursday, November 1st and runs through November 4th. Evening performances begin at 7:00 pm and the Sunday matinee is at 2:00 pm. Tickets, $20, can be obtained at the FEC box office (541-997-1994) or online at www.eventcenter.org. This performance is approx. 2 1/2 hrs long with one intermission.
Yachats Celtic Music Festival
November 9 - 11 at Yachats Commons, 441 Hwy 101 N, Yachats
The Yachats Celtic Music Festival returns for its 18th year! This 3-day festival includes more than a dozen musical acts, workshops and presentations, dancing, jam sessions, food, and beer and whiskey tastings. Chi mi a dh'aithghearr sibh. See you soon...goin' to be a whale of a time! Visit the festival website for the full schedule and tickets.
The 2nd Saturday Gallery Tour in Florence
Share with our community the benefits of the arts, artists and collaboration within our community thru interactive opportunities to share and celebrate the local arts. This monthly occasion will inspire you and help Florence continue to be a thriving coastal arts destination. During the hours 3-5PM on 2nd Saturday of each month, you'll enjoy great local art, interactions with fellow patrons of the arts and artists, receptions, refreshments, live entertainment and community. The Tour begins at any of the participating locations. More info at 2ndSaturdayGalleryTour.com
Ken Lavigne – SEAcoast Entertainment Concert
November 24, 2018 @ 7:00 PM - 9:30 PM
Florence Event Center, 715 Quince St. 541-997-1994
Ken Lavigne kicks off the holiday season with a swinging nostalgic take on classic Christmas songs and carols. This all new show will feel like shaking up the champagne bottle and popping the cork! Ken will croon with his voice and charm you with his adventurous stories. Pre-concert talk at 6:15pm.
Jazz Kings Christmas – Ring Those Bells
December 12 at 7:30 pm
Florence Event Center, 715 Quince St. 541-997-1994
It comes as no surprise that bells are a familiar symbol during the holiday season. Bells ring to announce the arrival of Christmas and they ring again to Herald in the New Year! These cheerful tones express warmth and a familiarity to the many Carols we sing each year… "Jingle Bells", "Sleigh Ride", "Carol Of The Bells", "Sleigh Bell Serenade", "Jing-jing-a-ling" and "Silver Bells".
We'll celebrate with poems such as Longfellow's "I Heard The Bells On Christmas Day", Traditional Carol Sing-a-longs and ring out the joyful melodies of… "White Christmas", "O Holy Night", "Have Yourself A Merry Little Christmas", "Let It Snow", "I'll Be Home For Christmas", etc
Please join Shirley Andress, along with Bill Hulings, Marisa Frantz, and the Emerald City Jazz Kings as we welcome in the 2018 holiday season and Ring Those Bells!
Last Resort Players present "A Christmas Story"
December 13, 14 & 15 at 7:00 pm and December 16 at 2:00 pm
Florence Event Center, 715 Quince St. 541-997-1994
A Christmas Story is a play in two acts with adult Ralphie relaying his memories of a mid-America Christmas in 1938. Primary roles are available for 2 men, 2 women, 5 boys and 2 girls. There are additional roles for a group of school children (girls and boys), neighbors/parents, a caroling group and various adult cameo roles, including a Christmas tree seller and Santa Claus.
Jean Shepherd wrote the original story and it was developed into a television movie by Turner Entertainment in 1983. Most remember the iconic leg lamp award and Ralph's wish for a Red Ryder 200-shot Carbine Action Range Model Air Rifle that would inevitably "shoot your eye out, kid!"
Last Resort Players is producing the play under the direction of Jennifer Connor-Chaney (a staff member here at Heceta Lighthouse B&B) with assistance from Cathy Dupont and other LRP members.
C.R.O.W. presents "Holiday Tour of Homes"
December 14 & 15 2018 @ 5:00 PM - 9:00 PM and December 16 @ 2:00 PM – 6:00 PM
C.R.O.W. Center for the Performing Arts, 3120 Hwy 101, Florence
Get ready for festive fun! You will board a cozy bus, and be whisked off to four captivating local homes, each one decked out in divine decor. At each beautiful residence, you will be provided with a variety of unique entertainment, tasty bites, and delicious drinks, as well as other special treats for the senses. Sure to put you in the spirit of the season! $50 per person. Purchase tickets at www.crowkids.com All proceeds support youth arts programming. Tickets are non-refundable. ​
Cape Perpetua Visitor's Center 2400 US-101, Yachats (541) 547-3289
· November 3| Cape Perpetua Speaker Series: Kim Nelsen (Marbled Murrelets)
· November 10 | Cape Perpetua Speaker Series: Rebecca Flitcroft (Climate Change on Salmon)
· November 13 | Marine Debris Survey: Cape Cove Beach
· November 15 | Annual Cape Perpetua Land-Sea Symposium
· November 17 | Cape Perpetua Speaker Series: Bob Lillie (Plate Tectonics and the Landscapes of the PNW)
· November 24 | Cape Perpetua Speaker Series: David Thompson (Mountain Lions, Cougars, Panthers, Oh My!)
· November 27 | Marine Debris Survey: Muriel O Ponsler
· December 1 | Cape Perpetua Speaker Series: Fawn Custer (King Tides, Sea Stars, Marine Debris)
· December 8 | Cape Perpetua Speaker Series: Dorothy Horn (Plastic Pollution)
· December 12 | Marine Debris Survey: Cape Cove Beach
· December 15 | Cape Perpetua Speaker Series: Colleen Weiler (Orcas of the Oregon Coast)
· December 18 | Marine Debris Survey: Muriel O Ponsler
Winter Whale Watch Week
December 27-31
Volunteers will be stationed at Cape Perpetua Visitor Center from 10:00am – 1:00pm during whale watch week