January 4, 2019
Happy Birthday, Howard Hansen!
Posted by: Misty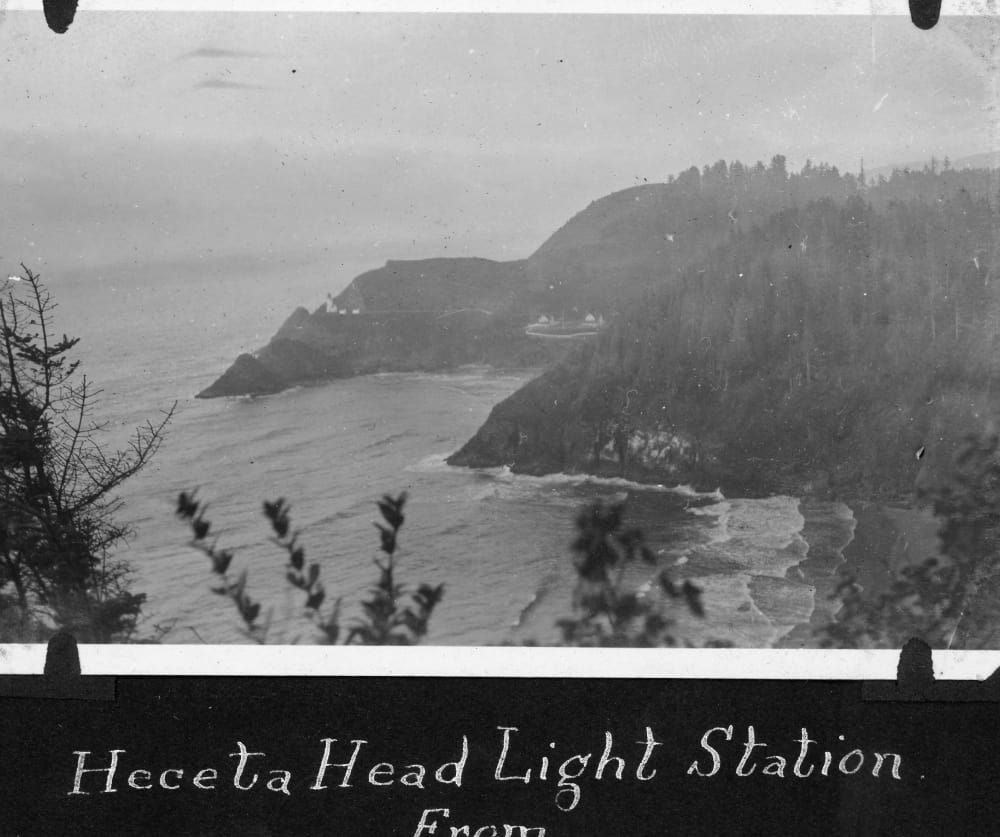 Howard Hansen
Born on January 4th , 1900 at Heceta Head Lighthouse, on the West side of the Assistant Lightkeeper's duplex to Olaf and Annie Hansen. A mid-wife from Florence often assisted with the births in the Heceta area, but it is hard to know if Annie had medical attention for this particular birth. A new year baby, the Heceta Lighthouse residents may have wondered if the birth would take place before or after the turn of the new century.
Howard Lee Hansen was Ole's firstborn son to carry on the Hansen name. For Annie, he was her third boy. Annie Lizzie Martin Johnston was a widow who had previously been married and had two sons in West Virginia. She had experienced the loss of her husband, a young toddler and her mother and brother. Starting over in Oregon with Olaf Hansen, a Norwegian immigrant who had a career in lighthouse keeping may have seemed like a new start. There is concrete speculation that Annie was a "mail-order bride."
When Annie agreed to move from West Virginia and marry Olaf Hansen in Washington during 1898, she brought one son, named Otho with her. Howard's older half-brother Otho was 11 years old when he was born and the only child at that time that lived at Heceta Lighthouse Station until Howard's siblings came along.
One can imagine the pride Howard's birth was for the parents. Next door on the east side of the duplex lived Harold and Guenerva Saulsbury, who had been married for 15 years, but did not have any children of their own. Chances are they paid a visit to the newborn baby, their new little neighbor.
Howard probably took his first steps in the west parlor and grew up running around every inch of the property and surrounding forest area. He attended school in a small community school house with a hired teacher that was located near the open beach area of Cape Creek. There was also a large garden located near the creek that the children would help tend. Howard learned to hunt local wildlife and fish from the fresh waters of Cape Creek while contributing to the self-sustaining family life at Heceta Lighthouse.
In September of 1918, Howard registered for the draft of World War I. His occupation at age 18 lists Howard as a Fire Guard. He was described as medium height, medium build, dark blue eyes and dark brown hair. There is no record that he was ever drafted into WWI.
Howard was mentored by his father and the many other lighthouse keepers at Heceta in the first two decades of 1900 on the strict regimen of maintaining the beacon of light. Learning these duties firsthand served him well as he was offered a First Lightkeeper's position at Tillamook Rock Lighthouse (aka Terrible Tilly) at age 19. He served at the isolated station for two years along with other young light keepers Orlo Hayward, Raymond Bay and Walter Lawrence that also had lived at Heceta with their light keeping families.
The July/August 2016 edition of the Lighthouse Digest chronicles the young men's service at Tillamook Rock, their boyish antics and obsession with new-fangled photography and film development. Over 100 of their photos are preserved and cataloged in the Tillamook Bay Lighthouse records. The 2016 article by Debra Baldwin can be viewed at http://www.lighthousedigest.com/Digest/StoryPage.cfm?StoryKey=4526. Two photos were found of Howard horsing around in a photo with Bay and Hayward (Hansen is in the center) and Howard with his own Kodak folding camera.

In 1930, Howard Hansen was living in Tokeland, Washington, across the Willapa Bay from where his parents were stationed as the head keepers at Willapa Bay Lighthouse. On December 27, 1930, Howard married Carla Louise Kraash McKeegan in Tokeland, North Cove, Washington. She had previously been married, was from Casper, Wyoming and had a 2 year old son named Donald, making Howard an instant stepfather. His occupation was listed as fisherman and was part of the deep sea crab fishing fleet in the small coastal community of Tokeland. Carla was living with her parents when she met Howard. Together they had two more sons, Carl in 1931/32 and John Howard in 1934. They moved to Bandon, Oregon where Howard continued his fishing career with Harry Olson, who he worked for previously in Tokeland. Sadly in 1936, Carla would lose her young husband, as Howard Hansen unfortunately drown at sea in a boating accident.
From the Coos County Obituary and Death Notices on August 7, 1936:
Howard Hansen, of Empire, was lost and Jessie Weinel of Marshfield, was rescued by the Bandon U.S. Coast Guard crew under the command of Captain Raymond Wilson shortly after 5:09 a.m. Wednesday, when the crab-fishing gas boat Glenora capsized and went to pieces while outward bound over the Coquille River bar.
Three fishing vessels were crossing at the time. The Sea Lion, operated by Stankavich Bros. of Bandon, and the Eleene, owned by Harry Olson, of Tokeland, wash., were in the lead. The third boat, also owned by Olson, was apparently making good headway when suddenly the tiller chain shapped in two and the little craft was left helpless without a rudder. This happened, according to Wienel, when the first minor breaker hit the boat. Immediately a heavier sea struck and capsized the boat, throwing both men into the water.
Within three minutes from the time the man in the lookout station telephoned what he saw on the bar to station headquarters, the crew had a power boat in the river, and it was less than 15 minutes from the time of the wreck until the coast guard had Weinel in their boat.
For several hours the coast guard boat, assisted by the Sea Lion and the Eleene, searched the waters in the surrounding area for Hansen, but he wasn't sighted at any time. There was a strong ebb tide at the time and it is believed that the body was carried out to sea. Hansen was about 30 years old. He had a wife and three little children at Empire. He came to Coos county from North Cove, where he had followed deep crab fishing.-- [Bandon] Western World.

Additional children born to Olaf and Annie Hansen at Heceta Head Lighthouse –
Thelma Mae was born a year after Howard on Nov. 12, 1901, also in the west duplex. On April 29, 1917, she was married at age 16 to local boy, Benjamin Lester Bunch (who was 22 years old) at the Heceta Light Keepers home. They stayed married long enough to have one child together, Ralph Lee. In January of 1920, Thelma is recorded as living at a logging camp and working as a waitress in Wendling, Oregon; Ben is listed as living in a logging camp in Reedsport working as a logger with his brother; and their son Ralph is listed as living in the Heceta area with his grandparents (Andrew and Christina Bunch). Later that year, Thelma took her son Ralph and moved to South Bend, located at Willapa Bay near her parents. She remarried in 1921 at age 19 to William Leber, a 33 year old local store owner who had recently had become widowed and also had a 2 year old child. They went on to have 2 daughters together.
March 16, 1903 – Ellen Irene was also born at the west side of the Heceta Lighthouse keeper's assistant's home. She lived there until age 17, when she moved with her family to Washington. At age 19, she married Jesse Van Greenman (he was 38 years old) and they had three children together. In 1936 she married Vanner Devine Stone and they had three children together.
October 4, 1904 – Lenora Gertrude – married Sorren Peterson, and died at the young age of 21 in 1925.
August 19, 1906 – (Mildred) Ida – she lived until 108 years old.
July 24, 1907 – Adell M. (who lived with her parents in Washington until their death). She never married and passed away in 1966. She is listed as being able to read and write, but never employed.
In 1904, head keeper Joseph Dunsan left Heceta for another lightkeepers post and Olaf Hansen was a natural fit for the captain's position. The Hansen family moved next door to the main house until their transfer in 1920. The 6 Hansen children were born, attended school and grew up in the shadow of the Heceta Head Lighthouse. Many family memories were made by Otho Johnston (who stayed home until age 20 and worked as a surveyor in the Heceta area) and his little brother Howard and 5 younger sisters.
Interesting notes –
In May of 1900, the head light keeper Joseph Dunsan and his wife Eleanor lived in the large home provided for the Head Lighthouse Keeper. Their two sons, Roy, 18 and Claude, 15 were listed in the 1900 census as lodging with a neighboring farmer and going to school. Perhaps the young men worked part-time for the farmer.
In 1910, Annie's sister, Florence, mysteriously left her husband in West Virginia and came to Oregon with her 5 year old daughter, Leona and moved into the main house with the Hansens. The census record from May, 1910 reflects 4 adults and 8 children living in the home together. Florence lists herself as married, although her husband back in West Virginia lists himself as a widower at the same time.
In my research, I found that several of the young women (Thelma Bunch, Florence Deitz and Carla McKeegan) listed themselves as widows on their second marriage certificates, although that does not seem to be the case, as their husbands were still alive and living elsewhere. It may have been common for women to claim widowhood in those times (before 1920) because divorces were hard to obtain.

January 3, 2019
Jennifer H. Chaney
Main research was compiled from U.S. Census records, birth records, marriage certificates and death certificates.