March 14, 2019
125th Birthday Party March 30, 4-7
Posted by: Misty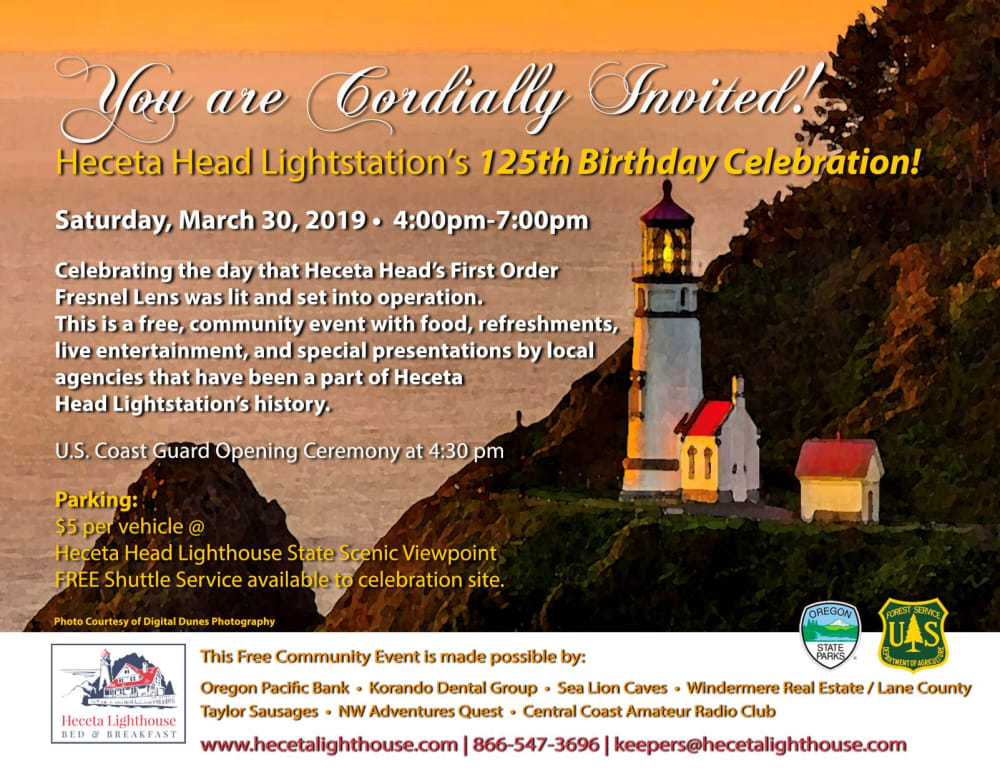 Heceta Head Lightstation will be celebrating its 125th birthday, Saturday, March 30, from 4 to 7 pm. The iconic fifty-six foot Heceta Head Lighthouse is known as the most photographed lighthouse in America. The first order Fresnel lens has been the brightest light shining upon the Oregon Coastline reaching out some twenty-one miles for well over a century. It has warned sea-faring mariners of the shallow reef alongside the massive headland and served as a U.S. Coast Guard station protecting the region during World War ll. The Heceta Lighthouse Bed & Breakfast operates in the historic keeper's house which has been a home to dozens of dedicated lightkeeper's and their families and is one of the only remaining beautifully preserved Queen Ann style lightkeeper's homes in the nation. The first floor also serves as an interpretive center which will be open for all to enjoy. The Heceta Head Lighthouse and Light Keeper's home are circa 1894 and both are listed on the National Register of Historic Places.
The community is invited to celebrate at the light station which has a scenic walking trail that leads up to The Keeper's House, Gift Shop and lighthouse. This family-friendly free event will mainly take place at the Heceta Lighthouse Bed & Breakfast. The U.S. Coast Guard will kick off the event at 4:30pm with an opening ceremony. Hot dogs, refreshments and birthday cup-cakes will be provided as well as live music and lawn games (weather permitting). Local agency representatives will be present to talk to about the outstanding natural features of the area as well as docents from the Heceta Lighthouse Interpretive Center at the Keeper's House and Oregon State Parks docents at the lighthouse. The local Siuslaw Pioneer Museum's Heritage Players will transport you back in time and will be dressed up in period wear.
Special thanks goes to Oregon Pacific Bank as host sponsors and event sponsors; Sea Lion Caves, Korando Dental, Windermere Real Estate/Lane County, Taylor Sausages, NW Adventure Quest, Destination Events, Central Coast Amateur Radio Club, Heceta Lighthouse Bed & Breakfast, Oregon State Park and the US Forest Service.
The park is located off of Hwy 101 just 13 miles north of Florence. Parking is available at the Heceta Head Lighthouse State Scenic View Point and parking is $5 per vehicle. Ongoing complimentary shuttle service is provided to and from the state park parking lot to the celebration site for those who don't wish to take the trail.

For more information contact Heceta Lighthouse B&B at (866) 547-3696 or keepers@hecetalighthouse.com
Photo Credit: Curtis Peters of Digital Dunes Photography